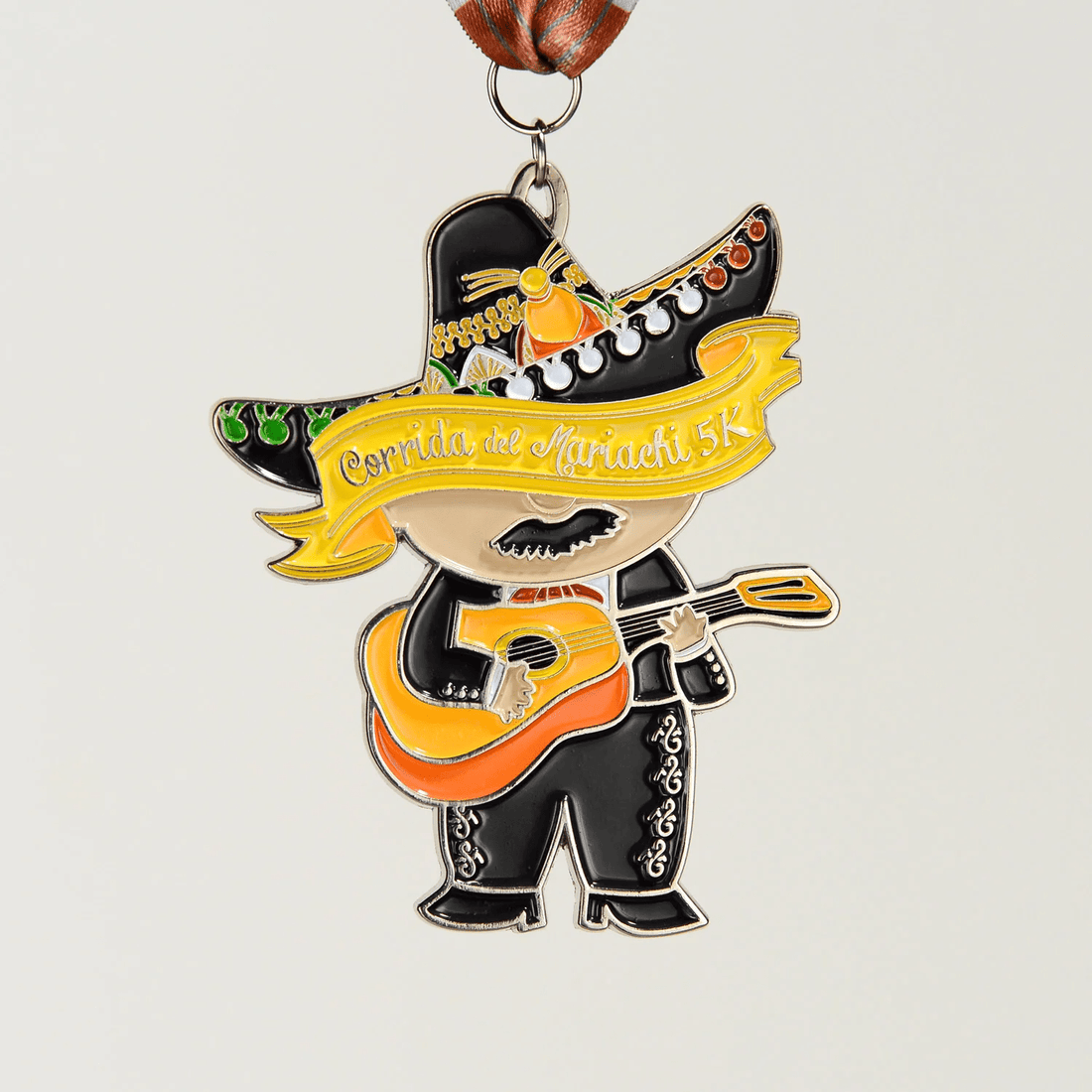 Nacho Basic Finisher Medal
Love Cinco de Mayo? SAME! Our team was pretty pumped when asked to create this awesome finisher medal for the Corrida del Mariachi 5k May fun run/walk in celebration of Cinco De Mayo. And we can't shut up about this custom medal. The design objective was to capture the festivity of the day in every centimeter of the medal. So we placed our design sombreros on, hired a mariachi band (we didn't but we wish we did), shouted viva la Mexico and started designing. And even we were surprised at what we came up it: el medallo intrincado (the intricate medal).
El Medallo is a custom die-cast medal which features a member of a mariachi band wearing a black sombrero decorated with intricate cultural Mexican ornaments. The hats sits on top of a yellow banner with the words "Corrida del Mariachi 5k" inscribed on it and then the rest of the medal showcases the soul of Mexico - the band member playing his guitar with fine details on his pants.
Yes, we did it; we created a finisher medal that any Cinco de Mayo celebrator could be proud of. A medal, when all is said and done, is a symbol of accomplishment and El Medallo is a symbol of perseverance in a fun and entertaining atmosphere, a tangible reminder of the pleasure to be found in dedication and hard work. We hope it will be a cherished keepsake for years to come!
Corrida del Mariachi 5k is administrated by the North Berwyn Park District, 

established by the residents in 1976 to provide outdoor recreational areas and leisure service opportunities which foster community growth, family values, and enhance the quality of life. Learn more about the race 

here: https://www.nbpd4fun.org/corrida-del-mariachi
Follow us on social media for more race related goodies https://www.facebook.com/RHMChicago/